©Sassy n Simple
NAUGHTY OR NIC
E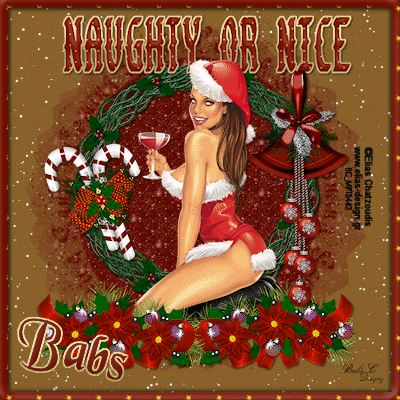 DATE WRITTEN: Nov 17, 2009
PROGRAMS NEEDED
Jasc Paintshop Pro or Corel Paint Program
PLUGINS: Eye Candy 4 Bevel Boss, Vanderlee snowflakes
You must have a good working knowledge of the programs I use.
ITEMS NEEDED
TUBE: of your choice I used Elias Chatzoudis
I purchased it at MPT but you can buy it HERE
KIT: Fantasy Moments Elegant Christmas
HERE
MASK: GabeeChristmas7-vi
HERE
FONT: Of your choice. I used Gesture and Black Chancery

READ BELOW BEFORE STARTING
Settings may differ slightly depending on your version.
Close original after you copy it unless I state otherwise.
Sharpen all re-sized items 1 time.
RE-SIZE only one layer unless other wise stated.
Refer to my image for placement of items.
Left click and right click refers to mouse buttons.
1. Select your Tube and GabeeChristmas7-vi mask Minimize for now.
2. Open a new Transparent Image 700x700
Select #89632d color in your foreground color
flood fill your image
3. Layers palette/right click/add a new raster layer
Selections/select all.
Select paper 20 from the kit. Edit/copy
Edit/paste into Selection
Selections/Select none
4. Layers/ New Mask Layer/from Image
Select the GabeeChristmas7-vi mask in the window
source luminance/checked
Invert mask data/checked.
5. Layers palette/right click mask layer/Merge/merge group
Re-size the Mask 90%
6. Select wreath Element 9 from the kit Edit/copy
Edit/paste as new layer into your image
Re-size it 75%
Effects/3D/drop shadow
Vertical and horizontal 2
Opacity 70
Blur 5.00
color black
Shadow on new layer not checked
Center in your Mask.
7. Select your Tube, Edit/copy
Edit/paste as new layer into your image
Re-size as needed I re-sized at 80%
Apply Same drop shadow
Center in your wreath

8. Select Floral Element 52 from the kit Edit/copy,
Edit/paste as new layer into your image.
Re-size it 50%.
Apply Same drop shadow.
Move it to the right bottom of image.
layers palette/right click/Duplicate 1 time
Image/mirror the duplicate.
Space so that they meet.
9. Select Bells Element 48 from the kit Edit/copy,
Edit/paste as new layer into your image.
Re-size them 70%.
Apply same drop shadow.
Place on the right side of your wreath.
10. Select Candy Cane Element 120 from the kit, Edit/copy,
Edit/paste as new layer into your image.
Re-size them 40%.
Apply same drop Shadow.
Place on the left side of wreath.

11. Select your rectangle tool (settings below) Select Paper 30 from the kit, minimize.
Select it in your Foreground under your patterns tab.
Angel 0 and scale set to 30
layers palette/click the eye close background
Draw out a rectangle Starting in left Top corner down to right Bottom corner (entire image).
Objects/Align/center in canvas.
Right click on the layer/convert to raster.
12. Still on the rectangle layer
Effects/Eye Candy 4 Bevel Boss Settings below.
Apply your Drop Shadow.
Now go back and Apply Drop shadow again
change Vertical and Horizontal to -2
13. Select The Same paper again In your Foreground/background Color
Set angle to 0 and scale to 20 in both.
Click on your Frame Wreath layer you want your text under your tube layer.

14. Select your Text tool
(settings Below)
Font of your choice I used Gesture
Type out Naughty or Nice
Size with your nodes.
Right click the layers in layers palette convert to raster layer.
15. Effects/Plugins/Eye Candy 4 Bevel boss
Same Settings used for step 12. above.
16. Still on text layer Toolbar under selections tab do all of the following..
A. select all,
B. select float.
C. Select defloat.
D modify expand 2
keep selected

17. Add a New raster layer under your Text.
Select a Gold Pattern or Gradient of your choice in your foreground color.
Flood fill the selection.
Selections Select None.
Apply Drop shadow.
Make sure to change Vertical and Horizontal back to 2.

18. Adding your name is optional. But use Steps 13 through 17 to do so if you wish.

19. Add your Copyrights and watemark.
Re-size image all layers/smart size to 400x400 or size of your choice.
Close off your back ground layer.
Right click any layer in the layers Palette merge visible.
ANIMATION
1. Open your Animation Shop, minimize it for now. I will refer to it as A.S.
2, In Paintshop Duplicate your background layer 2 times.
3, Starting with Bottom Layer (raster 1) Effects/Plugins/Vanderlee Snow. Apply the settings below.
Do not close this layer
te and close it.
4. Select the middle Background Layer (copy of raster 1)
Apply Vanderlee Settings Below
Click on the eye on this layer in layers palette and close it
5. Select the Top background layer (Copy 2 or raster 1)
Apply the Vanderlee Snow
settings below
Click on the eye on this layer in layers palette and close it
6. Now only your Merged layer and Bottom Background should be open. Edit/Copy Merged,
Take it to animation shop
right click in workspace paste as new animation.

7. Back Paintshop Close off the Bottom Background Layer
Open The middle Background Layer
Edit/copy merged
Take it to animation shop

Right click the first frame Paste/paste after current frame

8. Back in Paintshop. Close of the middle background Layer
Open the top background Layer
Edit/copy merge
Take it to animation shop right click frame/paste after current frame

9. I did not change my display time. Save your animation.
I hope you enjoyed this tutorial.

Using my Tutorials to make your Stationary?
Please place a credit like below in your footer

Tutorial by Babs C
HERE or HERE
Link back to the links below please
http://sassynsimpletagtuts.blogspot.com/
http://groups.yahoo.com/group/sassynsimple/

I want to thank all the testers for testing my tutorials
I appreciate their help so much.

©Sassy n Simple